Mommy Makeover
Conveniently located to serve Columbus, Lancaster, Pickerington, and Canal Winchester
Before & After Photo Gallery
Are you a mom who has seen unwanted changes in your body after having children? Have you tried dieting and exercise, but not seen the results you want? If this sounds like you, you are not alone. Many women choose a mommy makeover performed by board-certified plastic surgeon Dr. Jason Lichten to restore their pre-baby shape.
Mommy makeovers combine multiple Columbus plastic surgery procedures that range from liposuction, tummy tuck, breast augmentation, breast lift, breast reduction, as well as facial rejuvenation. Most often, women choose a mommy makeover to address lost breast volume, sagging or drooping breasts, excess skin around the midsection, and extra baby weight that cannot be fixed with diet or exercise.
Mommy Makeover Candidates
The best candidates for a mommy makeover are women who have realistic and attainable goals. It is important to note that a mommy makeover is not a substitute for diet and exercise, and is not a weight loss procedure, so patients should be at or near their target weight. The procedure can, however, help restore a rejuvenated appearance through various combinations of procedures.
"Dr. Lichten made me feel confident in his ability to do a good job. His sense of humor was refreshing. Most doctors are so serious … My results are wonderful. It has been fifteen years since my stomach was flat. My breasts look better too! I feel so much better. Thank you!! You have a great team. "
*Individual results may vary.
"62 year old mother of 2 wanted to "Look better than my ex husband's wife at my daughter's wedding – I did!" She thinks her results are "excellent," and thinks Dr. Lichten is excellent, friendly and kind."
*Individual results may vary.
Mommy Makeover Before & Afters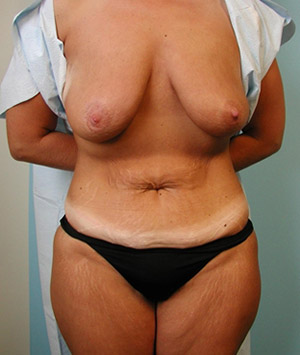 Procedure Options
Because mommy makeovers are designed specifically for each patient, the procedures vary, but often include:

A common combination for many mommy makeover patients is a tummy tuck with breast augmentation in Columbus, Ohio. However, this is just one of many combinations that can help women get back that pre-baby look – or even better!
Recovering from a Mommy Makeover
Recovery varies from patient to patient. Typically, after 2-3 weeks my patients can return to a desk job and at 4-6 weeks, they begin to return to strenuous activity and to the gym. Most mommy makeover procedures are performed as outpatient surgeries, so patients go home the same day. Pain is usually well controlled with Tylenol and other over the counter medications. Some patients will require post operative narcotics and Exparel.
The Cost of a Mommy Makeover
During consultations at Central Ohio Plastic Surgery, our patients meet with Dr. Lichten personally. There is an extensive conversation about each patient's lifestyle, budget and goals and a personalized plan is worked out. Factors like the number of procedures included in the mommy makeover and the extent of the work required will go into determining the cost. Each patient is given a quote detailing the exact costs associated with her chosen procedures. Our team can go over the payment options we offer as well as the financing options available through CareCredit and Park National Bank.
Schedule a Consultation
At Central Ohio Plastic Surgery, we are dedicated to providing our patients with the personalized surgical care and natural-looking results they need. You will meet directly with Dr. Jason Lichten, a board certified plastic surgeon, who can provide you with the surgical care you are looking for. There are no consultants in our practice. If you are unhappy with the appearance of your body following your pregnancy, contact our office today to schedule a consultation for mommy makeover in Columbus and Lancaster. We want to become your long term partners in health and beauty.
Click here for an article by Dr. Lichten about Mommy Makeovers
If you are interested in learning more about mommy makeovers,
request a consultation
with Dr. Lichten and you will receive $25 off your consultation fee. You can also call 740-653-5064 (Lancaster) or 614-862-8008 (Columbus) to schedule your visit to Central Ohio Plastic Surgery, Inc. We look forward to meeting with you.
Brazilian Butt Lift