Skin Cancer
Conveniently located to serve Columbus, Lancaster, Pickerington, and Canal Winchester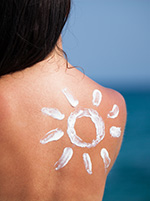 Before & After Photo Gallery
Dr. Jason Lichten Talks About Melanoma & Skin Cancer
How To Identify Skin Cancer
It is critically important to your overall health to know your skin and look out for changes to any spots on your body. If you, your dermatologist, or your primary care doctor notice a spot on your face that seems to be growing or changing, call our office to schedule a consultation to have it checked out. In addition, if you have a larger spot on your body or a family history of skin cancer, Dr. Lichten will be happy to evaluate it to determine if it is a cause for concern.
Skin Cancer Removal
After the lesion has been removed, reconstructive surgery often necessary to close or cover the treated area and to restore the natural appearance of the skin involved in the cancer excision. Dr. Lichten may perform immediate reconstruction of your skin lesion excision, or you may be referred to or sent from another surgeon who performs the cancer resection.
"Dr. Lichten did an excellent job.  I have really healed well and you can hardly tell I had a cyst removed from such a prominent place on my face. Thank you so much!  I would definitely see him again and recommend him."
*Individual results may vary.
Will Skin Cancer Removal Cause Scarring?
For lesions on the face, Dr. Lichten will use special techniques from his plastic surgery training to minimize or hide the scars left from the removal of the lesion. For larger lesions on the body, Dr. Lichten may create a skin flap or use a skin graft to rebuild the surface of the skin and provide the most aesthetically pleasing result for your specific situation.
If you would like to learn if you are a candidate for a reconstructive procedure,
request a consultation
online with Dr. Lichten. You can also call 740-653-5064 (Lancaster) or 614-862-8008 (Columbus) to schedule your visit to Central Ohio Plastic Surgery, Inc.